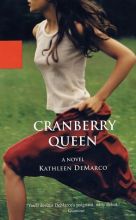 I was really taken with Kathleen DeMarco's 2001 novel "Cranberry Queen" (Hyperion, $12.95, paperback, 254 pp.)
Maybe because it had an unforeseen twist and was refreshingly, engagingly witty. But mostly because I started it on a plane ride filled with what seemed to be an unusual number of babies and wanted to be absorbed in a good story.
This Book Sense 2001 pick was the first novel written by DeMarco, a Philly resident and Penn graduate - now a lecturer in the school's cinema studies program. Her full name is Kathleen DeMarco Van Cleve, according to the Penn website. She has also written under the name Kathleen Van Cleve.
By the title and the first chapter, I expected the light diversion of chick lit. And there it was, perfectly entertaining, relating the story of thirtysomething Diana Moore and her hangups with her cheating boyfriend.
Wedged in the center seat between two dozing passengers, within sight of at least three babies who inexplicably NEVER CRIED DURING THE ENTIRE TRIP (??) I escaped the plane's drone and delved into Diana's seemingly carefree and self-absorbed life.
The Harvard grad with a successful career and Manhattan apartment is, even three years later, devastated by the boyfriend she thought was the love of her life who cheated on her with some random girl he met at a Knicks game one night. She now refers to him as "The Monster" to her close friends, who have long since exhausted their patience with the subject.
Her mourning of this lost and failed relationship is exacerbated by the fact that her brother has found love and is planning his nuptials. Diana laments her feelings on the situation to her mom and dad in Princeton - they speak on the phone daily - but is still having trouble getting past it.
At the novel's outset, Diana has to go to a wedding of a mutual friends, where her ex will be with his new girl.
Sounding quite Bridget Jones like, Diana thinks to herself:
"I will be the Perfect Single Guest. I will be the Katharine Hepburn (at 33, not 80) of the wedding. I am going alone. And I am not allowing myself one second of self-deprecation. Not one second" ... "I am anyone, anyone at all, but me, Diana Moore, brown of hair, nine of shoe, and wide of thigh."
And then something unexpected and tragic happens. I don't want to go into it, because the twist was a little shocking. I wouldn't want to ruin it for the next reader. I will say that the turn of events turns the story in a completely new direction, literally. And after a while, our resilient main character finds herself on a new adventure in New Jersey's Pine Barrens.
Her time in this rural and beautiful part of the Garden State is one of self-discovery, to say the least. She thinks of herself as two personas: The Smiling Idiot, who doesn't stand up for herself; and Foxhole Girl, her true fighting spirit. Somedays, the former smothers the latter. Strength vs. weakness; yin/yang. Inner demons we all battle with ... or at least I do.
"It is something, I think. It is me beginning ot take a step, me as a giantess, extending a leg over a miniature world of despair, reaching for whatever exists on the other side."
As a side note, Diana makes some new friends in NJ. One of them is a gorgeous but prickly woman who becomes a great friend. Diane herself is also described to be quite pretty, lithe, athletic. Despite the packaging, Ivy League degrees and enough material goods to get by, the two of them are rather grossly unlucky at love. I took this as some kind of lesson: You can possess everything you need and still be totally F'd up. Or, we all - even the beautiful among us - have work to do on ourselves, or something like that.
Anyhow, "Cranberry Queen" is a poignant, fresh surprising and sometimes hilarious read and I highly recommend it.
DeMarco has since published a second novel, "The Difference Between You and Me," Miramax Books. She is currently touring southeastern PA in support of her new young adult book, "Drizzle," under the name Katheen Van Cleve. Cute and interactive website complete with book signing dates in Philly and Lancaster may be found
here
.
Notably, according to the her web page for Penn's English department, Kathleen "Kathy" DeMarco has been the writing partner of John Leguizamo for many years, co-writing with him films such as "The Secret Life of Jesse Sanchez," (under option to Universal Films) and she has been the producer of numerous films, among them "Undefeated," "Pinero," "Joe the King" (which won the 1999 Sundance Film Festival Waldo Salt Screenwriting Award), "Big Shorty" (an animated TV series under option to Nickelodeon), "Sexabolix; a Love Story" (HBO Films)
Per the Penn site, DeMarco took her B.S. and B.A. (Creative Writing) from Penn in 1988--a dual degree from the Wharton School and the College of Arts & Sciences. She has been a consultant for NYU's Tisch School of the Arts M.F.A. dramatic writing program as well as for Tisch's undergraduate dramatic writing candidates.
She and Leguizamo are partners in Rebel Films, a NY-based production company.