Fans of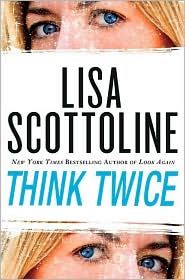 Lisa Scottoline, take note. The New York Times best-seller will be signing copies of her latest novel, "Think Twice" (St. Martin's Press) at Costco, 201 Allendale Road, King of Prussia, on Saturday, March 27, beginning at noon.
According to a press release announcing the book-signing, Scottoline's latest thriller poses the question: "Is evil born in us or is it bred?"

Below is a synopsis:
Bennie Rosato may look exactly like her twin, Alice Connolly, but there's an evil to Alice that makes them two very different women. That's what Bennie thinks until she finds herself buried alive by her own twin. With her sister disposed of, Alice takes over Bennie's live, impersonating her at work and sleeping with her boyerfriend with the hope of escaping her own messy reality.
However, Alice's plan wasn't perfect. She underestimated her twin and the determination she would have to stay alive long enough to exact revenge. She also underestimated Bennie's anger threshold and her own penchant for evil. Now Bennie must face the fact that she is more like her sister than she ever could have imagined as she becomes locked in a war she cannot win - a war with herself.
Sounds like a real page-turner!
Notably, Scottoline pens a weekly column, "Chick Wit," for the Philadelphia Inquirer. She earned her bachelor's and law degrees from Penn before embarking on a career as an attorney that ended in 1986 when she took leave to raise her daughter and began writing legal fiction part-time.
Below is a list of her books:
Everywhere That Mary Went (1993)
Final Appeal (1994)
Running From the Law (1996)
Legal Tender (1996)
Rough Justice (1998)
Mistaken Identity (1999)
Moment of Truth (2000)
The Vendetta Defense (2001)
Courting Trouble (2003)
Dead Ringer (2003)
Killer Smile (2004)
Devil's Corner (2005)
Dirty Blonde (2006)
Daddy's Girl (2007)
Lady Killer (2008)
Look Again (2009)
Why My Third Husband Will Be A Dog: The Amazing Adventures of an Ordinary Woman (2009) Think Twice (2010)
To learn more about Scottoline, click
here
to visit her Web site.