I'm going to start routinely running the Associated Press' Personal Finance Bookshelf feature here because 1) my company pays for this service; 2) we've no space to run it print-side; 3) these are interesting brand spanking new business books you'll likely be interested to learn more about; and 4) I'm an opportunist: This is a good thing feature, ready made that I can use, and I'm going to run with it.
So, here's the most recent installment of the AP Finance Bookshelf, which gives short reviews of 3 new books on finance topics. Enjoy!
Bookshelf: Budgeting fixes, economic IDs
By The Associated Press
One lesson from the Great Recession is that simplicity is a good thing. That's true both in managing our personal budgets and keeping the financial system afloat. Too many people and banks got stuck with complex financial obligations that they didn't manage properly, or in some cases simply didn't understand.
A couple new personal finance titles offer tips and proposals to help.
If you're looking to make your paycheck stretch a bit further, you may want to pick up "Be CentsAble: How to Cut Your Household Budget in Half." We also look at a couple of more issue-oriented titles, "Jimmy Stewart is Dead: Ending the World's Ongoing Financial Plague with Limited-Purpose Banking," and "Identity Economics: How Our Identities Shape Our Work, Wages and Well-Being."

Here's a look at the new titles:

TITLE:
Be CentsAble: How to Cut Your Household Budget in Half
AUTHORS: Chrissy Pate and Kristin McKee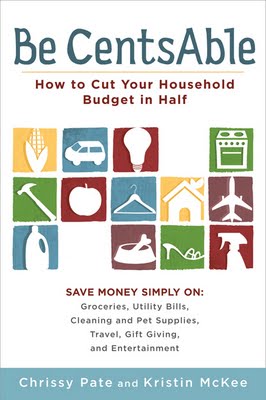 PRICE: $14 (paperback)
SUMMARY: Stay-at-home moms tend to be among the smartest when it comes to handling money. In an era of rising household costs, they have to be.
Pate, a former high school teacher, and McKee, a former financial analyst, outline everyday savings strategies that go beyond coupon clipping.
The focus is on four basic areas: groceries and personal care products; cleaning products and utilities; miscellaneous "other stuff" that has to be bought for families and homes such as shoes, gifts and pet supplies; and entertainment and travel. Along the way, the authors highlight "CentsAble Tips" in boxes designed to look like coupons.
The advice may not be all new, but it makes sense. Examples: Make a grocery list and stick to it. Stockpile gifts when items are on sale. Replace paper towels with cloth towels. And lower your thermostat by 2 degrees. Savings no doubt will add up if you follow these tips.
QUOTE: "We look at our methods and planning as earning money rather than saving it. We find that having a dinner plan each week, for example, means we can spend more time visiting with friends, playing with our children, or simply relaxing. Having a plan that also saves money means we have room for more fun in our lives!"
PUBLISHER: Plume Books
— Dave Carpenter
TITLE:
Jimmy Stewart is Dead: Ending the World's Ongoing Financial Plague with Limited-Purpose Banking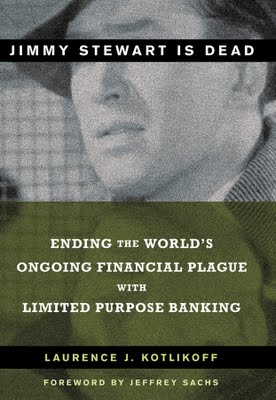 AUTHOR: Laurence J. Kotlikoff
PRICE: $27.95 (hardcover)
SUMMARY: This book opens with a dire declaration: The honest, trustworthy banker that Jimmy Stewart portrayed in "It's a Wonderful Life" is gone. Kotlikoff, a Boston University professor and former economist with the President's Council of Economic Advisers, uses the classic movie as a springboard to argue that banking should return to its simpler past. His prescription for financial reform is what he calls limited-purpose banking. He proposes transforming banks into financial intermediaries that would connect borrowers and lenders with savers and investors. They would never themselves own financial assets other than what they'd need to run their operations.
QUOTE: "The proposition that banking as usual is essential to our economy as opposed to extremely dangerous is predicated on a quaint view of banks that bears little resemblance to today's reality."
PUBLISHER: Wiley
— Mark Jewell

TITLE:
Identity Economics: How Our Identities Shape Our Work, Wages and Well-Being

AUTHORS: George A. Akerlof and Rachel E. Kranton
PRICE: $24.95 (hardcover)
SUMMARY: Akerlof, a Nobel Prize-winning economist from the University of California-Berkeley, and Kranton, a Duke University economist, explore the links between our identities and the everyday decisions we make about earning and spending money. Their goal is to add a more personal touch to economics. For example, market forces don't explain why the gap in smoking rates between men and women disappeared throughout the 20th cent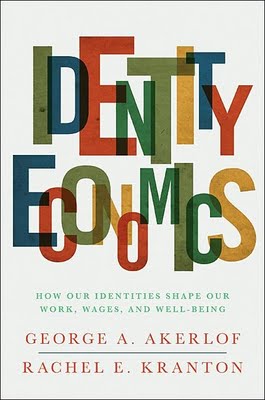 ury. Women began lighting up just as much as men because of changing gender norms, the authors argue. The book also shows how financial bonuses can run amok. In the banking industry, for example, financial incentives have motivated workers to do whatever it takes to ensure bonus pay, even if it might hurt the company and the economy. The authors' proposed fix: Get employees to identify with the company and its mission, so they advance its goals even without financial incentives.
QUOTE: "If employees think of themselves as firm insiders rather than outsiders, the pay differentials needed to induce high effort will be lower. The difficulties that arise when employees game incentive systems are also greatly reduced. Worker identification may therefore be a major factor, perhaps even the dominant factor, in the success or failure of organizations."
PUBLISHER: Princeton University Press
— Mark Jewell