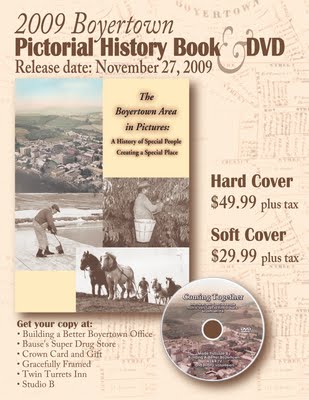 If you're interested in learning more about this Berks County town or simply want to remember it as it once was, you may want to check out
"Coming Together—Interviews with Special People from a Very Special Kind of Place—Boyertown, PA,"
a two-hour DVD included with Boyertown's second pictorial history book.
The DVD compiles interviews of 16 men and women of Boyertown's past and present.
In addition to taking a look at the lay of the land and the town's civic and service organizations, the book and DVD focus on the town leaders and community volunteers who have devoted their time to Boyertown since it was chartered in 1866.
The book includes a look at Main Street businesses, everyday life, and scenes of the area.
Each chapter of the 169-page volume has a differenc author, providing a variety of "voices" to the effort.
Copies of the pictorial history book and DVD are available at the following Boyertown area locations: Bause's Super Drug Store, 42 E. Philadelphia Ave.; Crown Card and Gift, Gilbertsville Shopping Center; Twin Turrets Inn, 11 E. Philadelphia Ave.; Gracefully Framed, 135 E. Philadelphia Ave.; Studio B, 39A E. Philadelphia Ave.; and the office of Building a Better Boyertown, 12 N. Reading Ave.
Contact Building A Better Boyertown's Main Street Manager Heather Oxenford at manager@boyertownpa.org or 610-369-3054 to order a copy of the book and DVD through the mail. Cost for soft-cover and DVD is $31.79; Hardcover with DVD, $52.99 (prices include tax, please add $10.35 for shipping and handling).