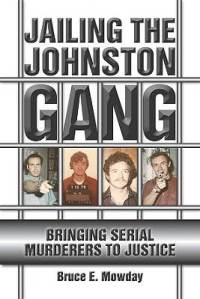 The 1986 film "At Close Range" was based on the real life Chester County crime family led by Bruce Johnston Sr. in the 1960s and 1970s. Starring Sean Penn, Christopher Walken, Chris Penn, Mary Stuart Masterson, the film happened right here in Mercury territory. It that doesn't ring a bell, Madonna's "Live to Tell," which got a lot of airplay, was written for the film (I think she was still married to Sean Penn at the time).

I haven't seen the film in at least 20 years. Curiosity makes me want to go unearth it from the drama stash at Blockbuster some night. But what the bibliophile in me should do is check out local author/journalist Bruce Mowday's new book, "Jailing The Johnston Gang: Bringing Serial Murderers to Justice" (Barricade, $22.95, 272 pages). Barricade recently announced the book is already in its second printing.

Or I could just read Mercury Editor Nancy March's blog about it, True-crime novel brings back memories. She covered the Johnston murder trials when she was a reporter for The Mercury.

And if you'd like to meet the author, he has several area appearances coming up:

"I've been receiving calls to schedule additional talks throughout Pennsylvania, Delaware and Maryland," said Uwchlan Township resident Mowday in a recent Barricade press release. "There is tremendous interest in this story of criminals who terrorized this area for decades. The book has also been selling extremely well on Amazon.com."

Signed books can be obtained from the author, Mowday, by calling him at 610-873-0727, E-mailing mowday@mowday.com or visiting www.mowday.com. The 272-page book, with 17 photographs, costs $22.95.

Mowday's local speaking and signing schedule includes:

*April 18 Signing at Exton Barnes & Noble 9 a.m. until noon.
*April 23 Talk and signing at Longwood Rotary at 6:45 a.m.
*April 25 Parkesburg Community Day signing from 8 a.m. until 3 p.m.
*April 29 Talk and signing at Easttown Library at 7 p.m.
*April 30 Talk and signing at Coatesville Rotary at noon.
*May 3 Book signing at Mystery Book, Mechanicsburg. 1 to 4 p.m.
*May 4 Talk and signing at Chester County Corvette Club at 7 p.m.
*May 15 Talk and signing at Caesar Rodney Rotary Club, Wilmington, 7:30 a.m.
*May 16 Signing at Downingtown's 150th anniversary celebration.
*May 18 Talk and signing at Okahocking Society at 8 p.m.
*May 21 Talk and signing at Boyertown Lions at 6:30 p.m.
*June 6 Signing at Bayard Taylor Memorial Library Home and Garden Tour
*September 12-13 Chadds Ford Days signing.