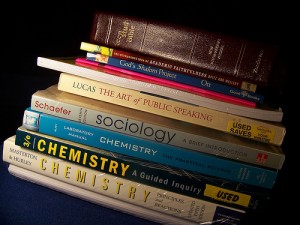 Back in the day, when I was a college student ... you know, just a few years back ... after finals I'd sell my textbooks and hope to get enough money back to pay for some Christmas presents for my family. No matter that my parents had shelled out for the textbooks in the first place.
Today Amazon announced its Textbooks Trade-In program for college textbooks, "just in time for the end of the semester."
Per the program, Amazon.com customers can swap their used texts for Amazon.com gift cards. You just go to
www.amazon.com/tradeinbooks
, print out a prepaid shipping label and mail off those books.
The instant gratification will be sacrificed, but it's worth it for the convenience. No more waiting in line and hoping the person who's taking in the books has reached their quota of Statistics texts, or feeling defeat wash over you when that $200 anatomy book gets you a measly $11, or worse, is not accepted because a newer edition is being used next term.
Per Amazon's press release: Once the book is received and verified by a third-party merchant, an Amazon.com gift card will be deposited into the student's Amazon.com account. This gift card can be used toward the purchase of next semester's books, or the millions of other items on Amazon.com.
"We're thrilled to add the trade-in feature to the Amazon.com Textbooks store," said Julie Todaro, director of Books at Amazon.com. "Our student customers know they can rely on Amazon.com for a great selection of titles and low textbook prices, and we're happy to be able to offer them another service to help them save money and time."
Students can buy textbooks through them, too. Amazon claims to offer savings of up to 30 percent off the list price of more than 100,000 new textbooks and up to 90 percent off the list price of millions of used textbooks.
If only poor journalists could afford to go back to school...