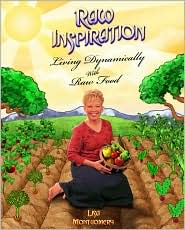 Raw foodies, take note:
Updated book-signing schedule from Royersford resident
Lisa Montgomery, author of "Raw Inspiration: Living Dynamically with Raw Food" (2009, Martin Pearl Publishing, $20, 184 pp.):
*Sat., Nov 28 - Book Signing/Tasting Nov. 28, from 10 a.m. - 2 p.m. at Fantes, Italian Market, Philadelphia.
*Sat., Dec 5, Noon to 2 p.m., Book Signing, Tasting at Barnes & Noble, Route l00, Exton
*Sunday, Dec. 6, Demo at Arnold's Way, Lansdale, 4:15 p.m.
*Sat., Dec. 12 , Noon to 2 p.m., tasting and book signing at Panache, Kimberton
NEW DATE ADDED (BOOKS SOLD OUT AT 12/5 EVENT):
*Sat., Dec. 19 , Noon to 2 p.m., book signing Barnes & Noble, Route l00, Exton
To learn more, visit Montgomery's Web site
http://www.livingdynamically.com/