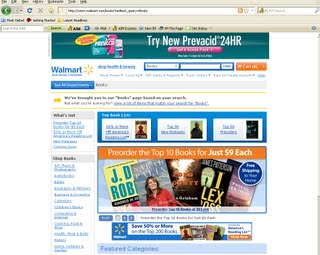 They are piled high on my desk at work, on my nightstand and bookshelves at home, and they keep multiplying.
I have too many books, and still I want more. When not satisfying my book addiction at local stores such as Gently Used Books in Douglassville or Wellington Square Bookshop in Exton, I can now get some of the latest novels online for pretty cheap, thanks to some good old fashioned price wars.
Three major retailers are offering new bestsellers at UNDER $10, according to a report today from The Associated Press:
Target joins in price war on expected best sellers
By ANNE D'INNOCENZIO
AP Retail Writer
NEW YORK — Target Corp. has thrown itself into a heated price war on books expected to be top sellers.

The Minneapolis-based discounter said Monday that it will offer some of this season's most anticipated book titles at $8.99, in line with recent moves by Walmart.com and Amazon.com.
Target says the price applies to pre-orders on Target.com of such books as "Breathless" by Dean Koontz, "Ford Country" by James Patterson and "Under the Dome" by Stephen King.

The book battle started Thursday, Oct. 15, when Wal-Mart Stores Inc. said its Web site, walmart.com, would charge just $10, with free shipping, for such upcoming hardcover releases as Sarah Palin's "Going Rogue" and John Grisham's "Ford County,"60 percent or more off the regular cost.

Amazon.com, the largest online book seller, then matched the prices. The fight became even fiercer when the two competitors lowered the prices even further to $9 by Friday, Oct. 16.

A check online Monday afternoon of several of the titles revealed that Target.com, Amazon and Walmart.com have similar prices. Walmart.com and Target.com are selling "Under the Dome" and "Breathless" at $8.99, a penny less than Amazon.com.

The price war, occurring as the critical holiday shopping season gets under way, is bad news for independent bookstores, as well as the large chain bookstores Borders Group Inc. and Barnes & Noble Inc. These chains have seen their sales and profits squeezed by discounting and a decline in their music business.

Wal-Mart has said that the steep book discounts won't be available in stores.