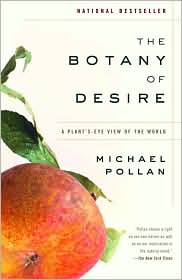 The Boyertown Farmers Market Newsletter informs me that you could win a DVD of a movie based on a bestselling book just by writing down how you feel about plants.
The contest centers around Michael Pollan's bestseller, "The Botany of Desire: A Plant's-Eye View of the World," (Random House, $24.95, 271 pp.).
This is a book that Mercury Reporter Evan Brandt has been raving about. But I didn't run to the library to check it out as Evan is into, let's say, whole genres of books that might not ever make the leap onto my bookshelf -- Historical non-fiction and science-y type books, for instance. Our ideas of escapism, which the exception of a tall Bluecoat Gin and Tonic, are quite different.
But, I'll give credit to Evan, this book does sound intriguing and educational.
To borrow from the New York Times Book Review (they can borrow from me anytime),
'' 'The Botany of Desire'' is divided into four parts, each focused on a different facet of human desire and its exploitation of and by domesticated plants: sweetness and apples; beauty and tulips; intoxication and cannabis; control and potatoes."
The Times sums the book up in this sentence: "The author explains how flowering plants have prospered by exploiting human desires."
You could win a DVD of the movie based on Pollan's book from LocalHarvest.org, according to our friends at the Boyertown Farmers Market, if you act by Sunday, Oct. 18:
The Botany of Desire will be airing on PBS on Wed
nesday, Oct. 28, from 8 to 10 p.m. Called an "eye-opening exploration of the human relationship with the plant world - seen from the plant's point of view," and narrated by Frances McDormand, this is sure to be good.
For those who haven't read the book, the idea is that we think that we control the plant world. But what if, in fact, they have been shaping us? Local Harvest has a director-signed copy of the movie, so they are introducing a new contest giveaway playing with the theme of the book.
To enter,
send them your story
of a time you were obsessed with something in the plant kingdom - such as, going to great lengths to protect your tomatoes from frost, watching and waiting for your seedlings to come up, praying for rain, or spending a summer growing flowers for your wedding, etc.
To learn more about the well-publicized Boyertown Farmers Market, visit their
Web site
(where you can also sign up for their e-newsletter).
They are bravely starting an outdoor winter farmers market on Nov. 21 at their regular location in the parking lot of the Boyertown Museum of Historic Vehicles at 100 South Walnut Street, two blocks south of the intersection of Routes 562 and 73.
And they're giving away a free cup of coffee to everyone who visits the the rain or shine Winter Market (open from 10 to 11:30 a.m.) during the chilly months on the following dates: Nov. 21, Dec. 19, Jan. 23, Feb. 20, March 20, April 17 and May 22.