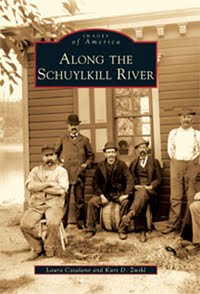 This may be too much information, but I was in the shower on Sunday morning listening to the news on KYW (I recently purchased a shower radio just for this purpose, cinching my reputation as a news geek), when I heard a familiar voice: The Mercury's own beloved columnist and OJR-area stringer Laura Catalano.
The extensively talented Catalano, who writes a Sunday column for The Mercury that always has me laughing out loud, has gone and written a book. She somehow found the time outside of her full-time job as a staff writer at the Schuylkill River Heritage Area, her part-time writing gig for our fine paper, raising three children and whatever she does for fun.
Along with SRHA executive director Kurt D. Zwikl, Laura has written "Along the Schuylkill River," (Arcadia Publishing, $21.99, 128 pp.) a pictorial history of the river that borders Pottstown. The book is part of Arcadia Publishing's Images of America series, which, incidentally, also includes a history of The Sunnybrook Ballroom and of The Route 100 corridor.
More than 200 vintage photos are featured in the book. According to a release from the SRHA,
the authors have included multiple pictures of the Schuylkill Canal, such as old canal barges, mules, boatmen and locks.
"The book contains images from virtually every major town and city along the Schuylkill River and gives a glimpse into what life was like across the region from the mid-19th to the early 20th centuries. It includes photos of numerous "firsts" in America: the first wire suspension bridge, opening day of America's first zoo, the first tunnel in North America and the country's first vineyard," states the release.
Upcoming book signings are scheduled at the followinglocations:
* Sun. Oct. 4, 1:30-3:30 p.m.-Fairmount WaterWorks Interpretive Center, Philadelphia
* Sat. Oct. 10, Noon-3 p.m.-Schuylkill RiverFestival, Riverfront Park, Pottstown
* Sun. Oct. 18, 1-3 p.m.-Schuylkill CanalAssociation Open House, Locktender's House Lock 60, 400Towpath Rd, Mont Clare, PA 19453
All author royalties benefit the nonprofit Schuylkill RiverHeritage Area.
If you want to buy a copy of the book, buying one directly from the nonprofit Schuylkill River Heritage Area ensures that a greater portion of the profits supports their mission of using conservation, education, recreation, tourism, and cultural and historic preservation as tools for community revitalization and economic development.
To order, contact Cindy Kott at the Schuylkill River Heritage Area at 484-945-0200. Or order online
HERE
at the SRHA website.