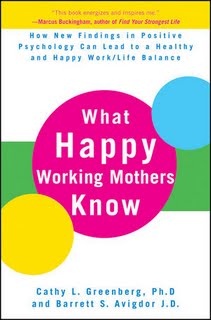 Cathy Greenberg and Barrett Avigdor authors of "What Happy Working Mothers Know: How NewFindings in Positive Psychology Can Lead to a Healthy and Happy Work/LifeBalance," (Wiley, $19.95, 2009, 256 pp.) will be two of the keynote speakers at the Pennsylvania Governor's Conference for Women on Thursday, Sept. 17, at The Pennsylvania Convention Center in Philadelphia.
Barrett S. Avigdor, J.D., is the director of legal talent strategy at Accenture, a position she created in 2007. In this role she strives to maximize the productivity, creativity and engagement of the 400 legal professionals at Accenture around the world. Avigdor spent much of her legal career as a senior executive in the legal group at Accenture, though she's also a certified career coach and an advocate for happiness. Avigdor writes and speaks to audiences around the globe on the subject of finding happiness by working to your strengths and aligning your time to your values. She is a graduate of the University of Chicago Law School and a former Fulbright Scholar to Brazil.
Cathy L. Greenberg's books include "Global Leadership: Next Generation," with Marshall Goldsmith, which ranked No. 1 in leadership on Amazon.com. She is cited as an authority on leadership behavior by all major business and financial newsorganizations, as well as by popular media outlets such as Glamour, Oprah Magazine and Martha Stewart Living Radio. Named a "Top 100 Leadership Coach" byExecutive Excellence Magazine (2008), she is a business talk show host on "Voice America" and founder of h2c, LLC Happy Companies Healthy People, a beacon for successful leaders.
Click
here
for more information about the Pennsylvania Governor's Conference for Women.
Every attendee will receive a free copy of "What Happy Working Mothers Know."