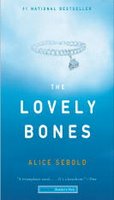 I don't say this about many books: The Lovely Bones is a great one. It's dark, suspenseful, unforgettable and well-written. And here in the Pottstown-area, we have reason to anticipate the film version, which was filmed in part in nearby Royersford borough (selected for its natural early 70s look) last spring. Until the film is released in 2009, we can occupy ourselves with talk about the book.
I do not however, recommend Sebold's more recent effort, "The Almost Moon." But that's a story for another day.
Below is a book discussion announcement from our rival paper, The Reading Eagle. And, may I say, "The Lovely Bones" is a plenty spooky enough choice for a Halloween week discussion:
Reading Library sets discussion of Sebold's 'The Lovely Bones' Berks County
The Reading Public Library has set two book discussions of Alice Sebold's "The Lovely Bones" for Thursday and Oct. 29.
Both events are free and will take place in the library at 100 S. Fifth St.
On Thursday, there will be a brown bag book discussion from 12:15 to 1 p.m. Participants are invited to bring their own lunch. The library will provide beverages and desert.
On Oct. 29, the book discussion will take place from 7 to 8 p.m.
Registration is required. To sign up, call 610-655-6355 or stop by the library's reference desk.