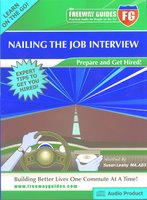 Reviewed: "Nailing the Job Interview," by Susan Leahy, The Freeway Guides audiobook series, 2008, $18.95, Audio CD, 80 minutes.
If you're looking to brush up on your interviewing skills, The Freeway Guides audiobook "Nailing the Job Interview" provides some food for thought.
The well-paced CD is voiced by Susan Leahy, a self-described "job interview expert," who co-founded The Freeway Guides series of audiobooks on topics including public speaking, wedding planning and healthy eating. Developed on the premise that people are spending a lot more time in their car, The Freeway Guides are simple and educational programs for those who want to "learn on the go."
Consider that lost time you spend in your vehicle each day driving to and from work. For a previous job, I battled daily traffic on Route 422 to the King of Prussia area. During those tedious drives, I could've been listening to something educational, such as these guides, had they existed back then.
"Nailing the Job Interview," is not something I'd recommend listening to as you are driving to your interview, however. The tips would be most helpful several days before a big interview. Leahy's suggestions include coming up with a "portfolio" prior to the big day. It might include extra copies of your resume, cover letter and reference list as well as any major reports documents you prepared at a former job. Days before the interview, you should think about the "key messages" you wish to get across, she says. Key messages are ideas that you might repeat several times throughout an interview and illustrate with examples, possibly backed up with documents from your portfolio. Picking out and trying on your clothing before the interview is also suggested, as is covering your "toes, shoulders and tummy."
"It may sound shallow, but clothes do count in an interview," Leahy says. "A suit is usually safe."
Practicing your responses to anticipated questions in front of a mirror or with a friend is also advised. If you tend to use filler words such as "um" and "like," Leahy suggests taping yourself, and learning to take advantage of "the power of the pause."
On the day of the appointment, make sure you eat something and don't overdo the caffeine. A growling stomach will not help you put your best foot forward. Likewise, caffeine coupled with adrenaline (we've all been there) might not be the impression of yourself you want to leave.
Plan ahead with your transportation as well by leaving 20 minutes ahead of the time you think you need to leave, giving you time for any traffic snafu or failed Mapquest instruction.
"Being late is reason enough not to get hired," Leahy warns.Here's another good piece of advice: When you arrive at the interview, be nice to the receptionist. Sounds simple enough, but many people forget that the receptionist's impression counts, Leahy says.
When you greet the interviewer, be energetic and smile. Offer a firm handshake. "No dead fish," Leahy says. And no "GI Joe," either.
The next tip took me by surprise: "Always say 'yes'," if your interviewer offers you some water," Leahy says. Forget about the standard "No thanks, I'm fine" response to that offer.
Why? "It gives you extra time to get acclimated…And later on, if your mouth is dry, you've got water," Leahy says.
During the interview itself, "Focus on the small stuff," such as your tone and body language, she says, and don't forget to let your personality shine through.
Follow up after the interview with a written or verbal thank you. If you do get a job offer, don't be afraid to negotiate — especially women, who tend to be shy about salary conversations, Leahy says.
"You don't have to take the first offer," she says.
Amen to that. Now, in the words of Leahy, "Go in there and drive that interview."
Enter to win a gently used copy of "Nailing the Job Interview" by emailing your mailing address to
mkaras@pottsmerc.com