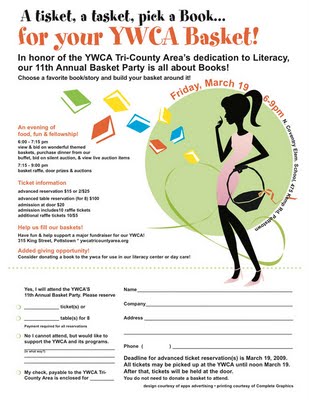 Among the many organizations in Pottstown that need your help is the YWCA Tri-County Area. This agency does wonderful things to help women and children in the Pottstown area who are in need.
Their Adult Literacy Program includes GED tutoring and diploma assistance as well as organizng a network of trained volunteers to help women learn how to read and improve their prospects.


Their Parents Network program support group allows parents to meet for one or two hours a week with a facilitator. The children's group that meets in conjunction gives kids some time to work on crafts and enjoy snacks while parents seek help.


Their Women EXCEL group holds monthly breakfast meetings give professional women and businesses the opportunity to network, provide support and become aware of local commerce and trade. The group seeks to energize, empower and inspire women to reach their full potential.
Coming up March 19 is your chance to support the YW and have some fun at one of its major fundraisers of the year, this time with a book-related theme.
The YWCA Tri-County Area's 11th Annual Basket Party will be held on Friday, March 19, from 6 to 9 p.m. at North Coventry Elementary School, 475 Kemp Road, Pottstown.
The organization is currently accepting sponsorships as well as book-themed basket donations.
From 6 to 7:15 p.m., attendees can view and bid on themed baskets, purchase dinner from the buffet, bid on silent auction items and view live auction items. The basket raffle, door prizes and auctions will be held from 7:15 to 9 p.m.

Advanced tickets are $15 each or two for $25. Advanced table reservations (for eight people) are $100. Admission at the door is $20. Admission includes 10 raffle tickets. Additional tickets are available 10 for $15.

This year's event is "All About Books." Basket donations with that theme in mind are being accepted. Choose a favorite book/story and build your basket around it. All basket contributors will receive 10 additional raffle tickets with their paid ticket. All baskets should be wrapped in cellophane with your name or company name, basket theme, and a list of contents. Deliver your basket to the YWCA no later than Monday, March 15. Basket pickup is available, call the YWCA at 610-323-1888 to make arrangements or for more information.
Sponsorship levels are also available. The gold level ($300) includes eight admission tickets, a reserved table and a full-page program ad. The silver level ($200) includes four admission tickets and a half-page program ad. The Bronze level ($100) includes two admission tickets and a business card program ad.
All proceeds to benefit YWCA Tri-County Area, which promotes the elimination or racism and the empowerment of women.
Above is their cute and colorful flyer, designed by Epps Advertising and printed by Complete Graphics.
Perhaps your business would like to become a sponsor and help out this tremendous organization. Or maybe you have some books lying around that you no longer need that you wouldn't mind donating to this cause. Plus, when you donate, you get an additional 10 raffle tickets with paid admission. It's worth combing the bookshelf for.