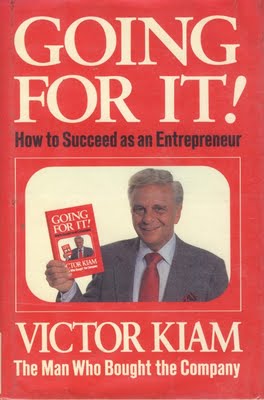 1) Awful Library Books
This site takes a look at outdated library volumes and pokes fun at them. At right is their pick of the day for Wednesay, Feb. 17: "Going for it: How to Succeed as an Entrepreneur" (Victor Kiam, aka "The man who bought the company," 1986). Funny to browse through the titles they unearth, from a time when there actually was a physical card catalog.
2) Book Club Girl

Fun and quite comprehensive blog about female-friendly book club reads. Lots of book and gift cert. giveaways. Impressive event calendar. Hooked up w/ all the social media. "Book Club Girl" herself is an anonymous book reviewer.
http://www.bookclubgirl.com/book_club_girl/
3) 26 Books
This blog was started in 2006 by one guy, Shane Richmond, to help him be self-motivate to read 26 books in a year (one every other week, give or take). Richmond said he made his goal with time to spare and decided that the following year, he'd ask some friends to join him on the blog, which continues as a group effort. So one or another of these folks always has a book to write about.
(Hmmm. I guess I never counted my number of books read for the year. Right now am stuck on my book 2 for 2010, "Ghostwalk" by Rebecca Stott. Keeps putting me to sleep.)
4) Paper Cuts
Written by the editors of the New York Times Book Review. Good stuff by our friends at the best paper in the country, 'nuf said.
5) The Book Lady's Blog
An anonymous bibliophile shares her informed and interesting book picks and offers lots of fun book giveaways.
6) Smart Bitches, Trashy Books
I'm not really a romance novel fan, I just really like the title of this book blog.
7) Jossey-Bass on Leadership
8) 800-CEO-READ

Another site by a company promoting its books. Well-organized, with contests in which you can win books and stuff. But yes, they are trying to get you to buy books.
http://800ceoread.com/
And last but not least:
9) The Astonishing Blog
Written by Carolyn Turgeon, author of "Rain Village" and "Godmother: The Secret Cinderella Story" (which I reviewed
here
). Very talented and imaginative storyteller who just happened to graduate from my high school.