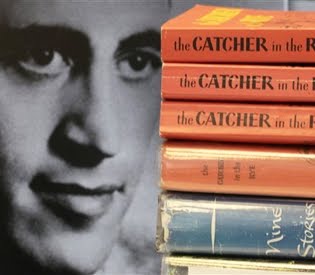 Did J.D. Salinger write a novel - or 10 - to rival "The Catcher in the Rye"?
We may never know.
Though there's much speculation about the unpublished writings of one of the most-talked about novelists of our time, time will tell if his family will release them - if indeed any writings exist.
The reclusive Salinger, who died on Jan. 27 at the age of 91 in New Hampshire, remains an enigma. The mass adoration of his 1945 classic caused him to run for cover.
I admit, I would salivate to see more of Salinger's shorter works. At least he did see fit to publish "Franny and Zooey," "Raise High the Roof Beam, Carpenters," and "Nine Stories," the collection that contains two of my fave stories "For Esme with Love and Squalor," and "A Perfect Day for Banana Fish."
And yes, a "new" novel would be a dream come true. Too bad the guy had to die before we could see it (possibly).

Below, The Assocated Press asks the question that's foremost on the fan's minds.

"What's in J.D. Salinger's safe?"
By the Associated Press (1/29/10)
NEW YORK — So what about the safe?

The death this week of J.D. Salinger ends one of literature's most mysterious lives and intensifies one of its greatest mysteries: Was the author of "The Catcher in the Rye" keeping a stack of finished, unpublished manuscripts in a safe in his house in Cornish, New Hampshire? Are they masterpieces, curiosities or random scribbles?
And if there are publishable works, will the author's estate release them?
The Salinger camp isn't talking.

No comment, says his literary representative, Phyllis Westberg, of Harold Ober Associates Inc.

No plans for any new Salinger books, reports his publisher, Little, Brown & Co.

Marcia B. Paul, an attorney for Salinger when the author sued last year to stop publication of a "Catcher" sequel, would not get on the phone Thursday.
Salinger's son, Matt Salinger, referred questions about the safe to Westberg.

Stories about a possible Salinger trove have been around for a long time. In 1999, New Hampshire neighbor Jerry Burt said the author had told him years earlier that he had written at least 15 unpublished books kept locked in a safe at his home. A year earlier, author and former Salinger girlfriend Joyce Maynard had written that Salinger used to write daily and had at least two novels stored away.

Salinger, who died Wednesday at age 91, began publishing short stories in the 1940s and became a sensation in the 1950s after the release of "Catcher," a novel that helped drive the already wary author into near-total seclusion. His last book, "Raise High the Roof Beam, Carpenters and Seymour," came out in 1963 and his last published work of any kind, the short story "Hapworth 16, 1924," appeared in The New Yorker in 1965.
Jay McInerney, a young star in the 1980s thanks to the novel "Bright Lights, Big City," is not a fan of Hapworth and is skeptical about the contents of the safe.

"I think there's probably a lot in there, but I'm not sure if it's necessarily what we hope it is," McInerney said Thursday. "'Hapworth' was not a traditional or terribly satisfying work of fiction. It was an insane epistolary monologue, virtually shapeless and formless. I have a feeling that his later work is in that vein."

Author-editor Gordon Lish, who in the 1970s wrote an anonymous story that convinced some readers it was a Salinger original, said he was "certain" that good work was locked up in New Hampshire.
Novelist Curtis Sittenfeld, frequently compared to Salinger because of her novel "Prep," was simply enjoying the adventure.
"I can't wait to find out!" she said. "In our age of shameless self-promotion, it's extraordinary, and kind of great, to think of someone really and truly writing for writing's sake."

Some of the great works of literature have been published after the author's death, and even against the author's will, including such Franz Kafka novels as "The Trial" and "The Castle," which Kafka had requested be destroyed.
Because so little is known about what Salinger was doing, it's so easy to guess. McInernay said he has an old girlfriend who met Salinger and was told that the author was mostly writing about health and nutrition. Lish said Salinger told him back in the 1960s that he was still writing about the Glass family, featured in much of Salinger's work.
But the Salinger papers might exist only in our dreams, like the second volume of Nikolai Gogol's "Dead Souls," which the Russian author burned near the end of his life. The Salinger safe also could turn into a version of Henry James' novella "The Aspern Papers," in which the narrator's pursuit of a late poet's letters ends with his being told that they were destroyed.
Margaret Salinger, the author's daughter, wrote in a memoir published in 2000 that J.D. Salinger had a precise filing system for his papers: A red mark meant the book could be released "as is," should the author die. A blue mark meant that the manuscript had to be edited.

"There is a marvelous peace in not publishing," J.D. Salinger told The New York Times in 1974. "Publishing is a terrible invasion of my privacy. I like to write. I love to write. But I write just for myself and my own pleasure."