Royersford resident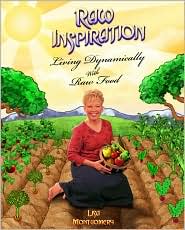 Lisa Montgomery, author of "Raw Inspiration: Living Dynmically with Raw Food" (2009, Martin Pearl Publishing, $20, 184 pp.) will hold book signings on Nov. 7 and 8 at Boyertown area locations.

*From 3 to 5 p.m. on Saturday, Nov. 7, Montgomery will visit the Innerlight Holistic Center, located in the GrosserEase shops, Grosser Road and Route 100, just south of Boyertown.
Montgomery will share personal stories of healing through raw foods, tips for setting up and maintaining a raw foods kitchen and lifestyle, and delicious recipes. She will prepare the Chocolate Mousse Pie recipe from her book to share. Contact Cristina Leeson for more information at 610-413-8191.
*From noon to 3 p.m. on Sunday, Nov. 8, she will sign books at Studio "B" for the Art Alliance of Boyertown.
Since the release of her book in August, Montgomery has been conducting book signings at McGuire Air Force Base in Maryland, and recently was the guest speaker at a Raw Foods Gathering in Manhattan.

Montgomery has also been featured locally on the "Boyertown Live" TV program and has sponsored and also been a repeat guest on "What's The SCORE" radio show on 1370 WPAZ AM.
According to Montgomery's publisher, Martin Pearl Publishing, "Raw Inspiration: Living Dynamically with Raw Food" is an inspiring and informative raw foods lifestyle book featuring personal stories of healing through raw foods, tips for setting up and maintaining a raw foods kitchen and lifestyle, and delicious recipes. The personal stories are intended to be inspirational to those seeking a healthier diet. "Raw Inspiration" also explains the basics of nutrition and meal planning with raw foods, as well as providing a guide to equipping a raw foods kitchen.

"What you put in your mouth and how you live your life are so important," says Montgomery. "A Raw Food diet cleanses the body and nurtures the soul."
Montgomery is known for her monthly Living Dynamically Raw Food Potluck gatherings in Royersford as well as workshops, and annual Living Food Expo are attended by celebrities, raw food experts, and enthusiasts.
In 2007, model Carol Alt visited Montgomery's annual Living Food Expo in Royersford and published one of Montgomery's recipes in her book, "The Raw 50."
In her book, Montgomery credits Dick Powell of the Pottstown SCORE (Service Corps of Retired Executives) chapter for helping her with publicity and marketing for that event.
"SCORE's assitance was instrumental in getting local and national media attaention," she writes in the book.
Montgomery is a Board Certified Holistic Health Practitioner from the Institute of Integrative Nutrition in Manhattan. She is also a Certified Associate Raw Chef and Instructor from the Living Light Institute of Raw Foods in California. According to her publisher, her focus is on living dynamically – teaching people how to heal their entire being (physical, emotional, and psychological) with the raw foods lifestyle. To learn more, visit her website,
www.livingdynamically.com
.