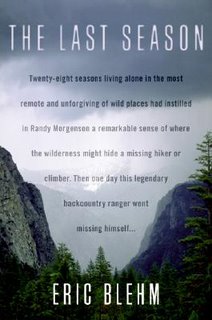 I went into the woods because
I wished to live deliberately,
to front only the
essential facts of life,
and see if I could not learn
what it had to teach,
and not, when I came to die,
discover that I had not lived.
~Henry David Thoreau, Walden

"The Last Season" (HarperCollins, 2007, 384 pp.), Eric Blehm's account of a missing backcountry ranger is captivating and sad, in the vein of Jon Krakauer's "Into the Wild."

Blehm details the life and ultimate disappearance of Randy Morgenson, a ranger in the wilds of California's High Sierra. Randy was raised in the Yosemite Valley by parents with a love of nature and of passing that reverence on to their children. Notably, and fascinatingly, guests at the Morgenson family dinner table included famed nature photographer Ansel Adams and his wife, Virginia, and writer and naturalist Wallace Stegner.

Randy turned a lifelong affinity for the mountains and nature into what seemed like the perfect life for him: Tending to a ranger station in the middle of nowhere in one of the country's largest national parks. He spent 28 summers manning a ranger station for the National Park System. But the solitary life proved taxing on his marriage, to a woman who seemed like a great fit for him: Judi would hike into the backcountry something like 18 miles just to spend time with him, and one year spent a happy winter season snowed in at a high-country station with him.

In the year preceding his July 1996 disappearance, Randy and Judi had a falling out. Randy, 54, had strayed with a female ranger and lied about it to Judi. She filed for divorce. He took the divorce papers with him that season to look over and presumably sign, and was in a noticeable funk to all those around him. The woman he had the affair with also moved on.

One day in July, Randy goes out on patrol and doesn't return. He leaves a note on his ranger station saying he'll be back. The rangers' radios were notorious for malfunctioning, so no one thought much about it at first when Randy was out of radio communication. But after 4 days, they organized an intensive search-and-rescue operation. After a thorough search involving dozens of rangers trained in searching, K-9 and helicopter searches of a vast amount of country, nothing turned up. No clues, nothing. Randy, who lived by the philosophy of preserving nature and not leaving a trace of oneself on it, was gone. Theories abounded that he'd done himself in, took off to Mexico, or perhaps was out there in the woods, injured.

Randy was a highly skilled hiker, extensively knew the country in which he was paid to patrol, and had a knack for finding injured or stranded hikers. That he would get himself into a life-threatening situation seemed unlikely to those who knew him best who were part of the search for him. Blehm plays to this theory. He includes others' accounts/corroborations of evidence of Randy's less than enthusiastic mental status the summer of his disappearance. The fact that Randy had written, at one point in his diaries, that "The least I owe these mountains is a body" seems prescient, foreboding.

So you read on, wanting to find out what became of Randy. And here's where this adventure tale seems to lag. The book is interesting, but parts of it (some of the myriad minute details) seem to stretch on unnecessarily.
A New York Times review questioned whether the tale had any legs beyond a magazine article. That's gotta smart for Blehm, a former editor of Transworld SNOWboarding magazine, who had written two books before this one: One about snowboarding ("P3: Pipes, Parks, and Powder") and one about a business ("Agents of Change: The Story of DC Shoes and Its Athletes"). "The Last Season" seems to be on a whole other intellectual level for Blehm, however.

Blehm's strength is in telling and interesting tale and completing the in-depth research he did to back it up. It may be his folly that it was not more throroughly edited.

Thatwithstanding, I enjoyed the descriptions of Randy's hikes in the backcountry and excerpts from his ranger logs and diaries. Blehm's descriptions of the beautiful isolated valleys and meadows Randy loved make you want to hop the nearest plane and go exploring there.

In addition to being about Randy Morgenson and what became of him, this book, a winner of the National Outdoor Book Award, is also about what it takes to be a backcountry ranger, a vocation that requires intense training and dedication, long absences from society, little glory, and for which the perks are decidedly not paid in money or respect from the NPS.

Blehm's book is a good summer read that will keep you up past your bedtime and will serve as a call to the wild for those of us currently camped in suburbia.
I will not spoil the book's ending by telling you the outcome.

Notably, Blehm is at work on a new book "The Only Thing Worth Dying For: How Eleven Green Berets Forged a New Afghanistan," which is due to be released in November 2009. I would expect nothing less than a riveting true adventure tale that is meticulously researched.

Thanks to Mercury Online Editor Eileen Faust, who has a yen for travel/adventure writing, for the loan of her paperback version.