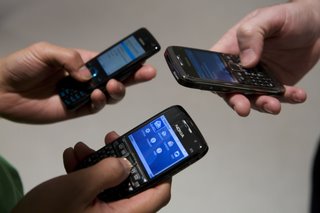 I'm the first to admit that I'm not one of those people who's always right on top of their cell phones. In fact, if you've called or texted my cell in the recent past and I haven't gotten back to you, it's not that I'm ignoring you: I probably just haven't checked my messages lately.

So when I saw this news report that Amazon will be selling book downloads directly to your cell phone, I was a little incredulous. My Motorola Razr has about 5 lines' worth of space. Not exactly conducive for prolonged bouts of reading.

But I guess that's not the point. The point is that the technology is now available, in case you're looking for something to read during those moments in line at the grocery store or in the dentist's waiting room.

Rejoice.
And prepare to squint.
Date: 2/6/2009 2:11 PM
Amazon to offer Kindle e-books on cell phones

NEW YORK (AP) — Books that Amazon.com Inc. sells for its Kindle electronic reading device will also be available on cell phones, too.
Amazon spokesman Drew Herdener said Friday that the Seattle-based online retailer is working on making Kindle books available "on a range of mobile phones." The company is not yet saying when the books will be available, or on which phones.

Another e-book provider, Mobipocket, which is owned by Amazon, already sells titles that can be read on numerous smart phones. And on Thursday, Google Inc. announced that titles available from its Book Search service can now be read on Apple Inc.'s iPhone or a phone running its Android operating system. For now that would just be the G1, which is sold by T-Mobile.

Amazon is widely expected to unveil a new version of the Kindle device at a news conference Monday at the Morgan Library & Museum in New York.

The company has not released sales figures for the first version of the Kindle, which it rolled out in late 2007. Amazon said last fall it sold out of the $359 device after Oprah Winfrey endorsed it. The company has made 230,000 titles available on the Kindle, which can download books wirelessly.