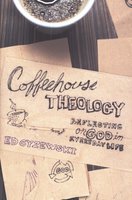 Gravity Music.Books.Art, the bookstore on Route 422 in Exeter near the Burger King, sent me the below press release for a discussion next Friday.
Exeter bookstore hosts theology discussion
EXETER — Gravity Music.Books.Art, 4850 Perkiomen Ave., will host a discussion on "Christians v. Theology" on Nov. 7 at 7:30 p.m.
Author Ed Cyzewski will be leading the discussion, which will include such topics as "Is Homosexuality okay or not okay?" "Should we worship with a rock band or with an organ?" and "Can women take a leadership role or should they take a backseat in the service?"
In his new book, "Coffeehouse Theology," Cyzewski, encourages his fellow Christians to engage in a dialog about differences in theology rather than let it cause separation and conflict.
"Theology [should] help us draw near to God and communicating this concept properly needs to be an ongoing task of the church," said Cyzewski. "We should spend our time working together to find a way to agree on the core of the Gospel and leave room for a variety of perspectives while we figure out the particulars of our theologies."
Cyzewski holds a master's of divinity from Biblical Theological Seminary in Philadelphia, and serves as the chair of the Northshire Nonprofit Network as well as with several ministries and nonprofit organizations in Vermont.
The book discussion is open to the public and does not require prior knowledge of the book.
Gravity Music.Books.Art is a faith-based retail owned by Robert and Cheryl Tyson. After a combined total of 15 years in the mainstream and Christian music industries, Robert and Cheryl identified a growing need for a renewed perspective on faith both within and outside of the Christian "bubble".
For more information, call 610-779-3003 or visit
www.gravityonline.com